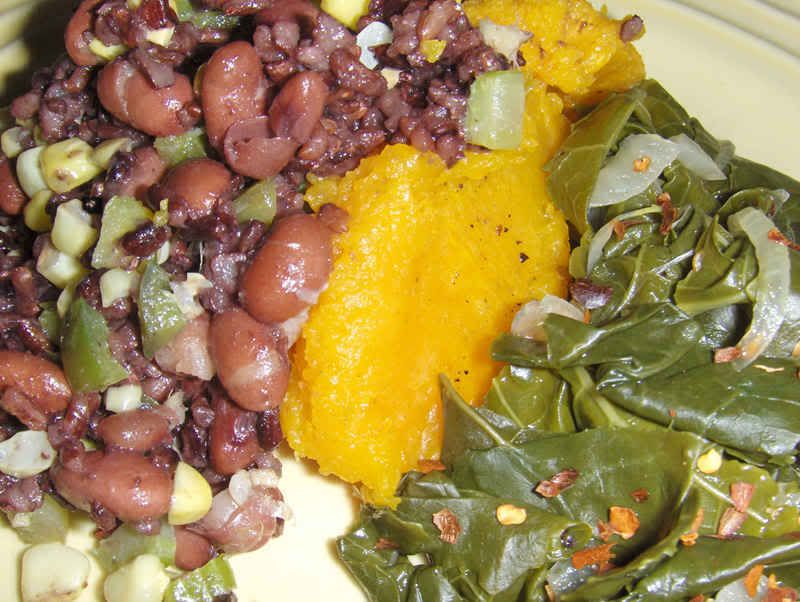 In late spring, we plant the corn and beans and squash. They're not just plants- we call them the three sisters. We plant them together, three kinds of seeds in one hole. They want to be together with each other, just as we Indians want to be together with each other. So long as the three sisters are with us we know we will never starve. The Creator sends them to us each year. We celebrate them now. We thank Him for the gift He gives us today and every day.
- Chief Louis Farmer (Onondaga)
This was our Three Sister's Sunday meal. The squash, pepper, celery, onion, greens and corn are all locally grown. We also had turnip greens, picked fresh from
Gloria's
home garden yesterday.
Ingredients:
1 large butternut squash
3/4 cup wild rice
3 cups of water
1/2 cup dried red beans, cooked
3 cups of water
1/2 tsp. salt
3 Tbsp. olive oil
1 Tbsp. fresh minced ginger root
1 small purple bell pepper
1/2 cup chopped celery
1 ear of corn, cut off cob
Salt and Pepper, to taste
Cut butternut squash in half lengthwise, cook squash side down in pan of water in 350 degree oven till tender.
Boil three cups salted water, add wild rice and cook till all the water is absorbed.
Sautee fresh ginger in small skillet over medium high heat about 1 minute. Add celery and pepper and cook a couple of minutes more. Add corn, cover and continue cooking about 5 minutes.
Mix wild rice, beans, salt and pepper and sauteed vegetables. Spoon into butternut squash and bake for 10-15 minutes more.
The turnip greens were cooked in a small amount of water with thinly sliced onions, salt and pepper and a dash of crushed red pepper until tender.
Apple Bread Pudding
for dessert ... will post recipe tomorrow.
I also bought Gloria's green tomatoes, some to fry and some to let ripen on the shelf.