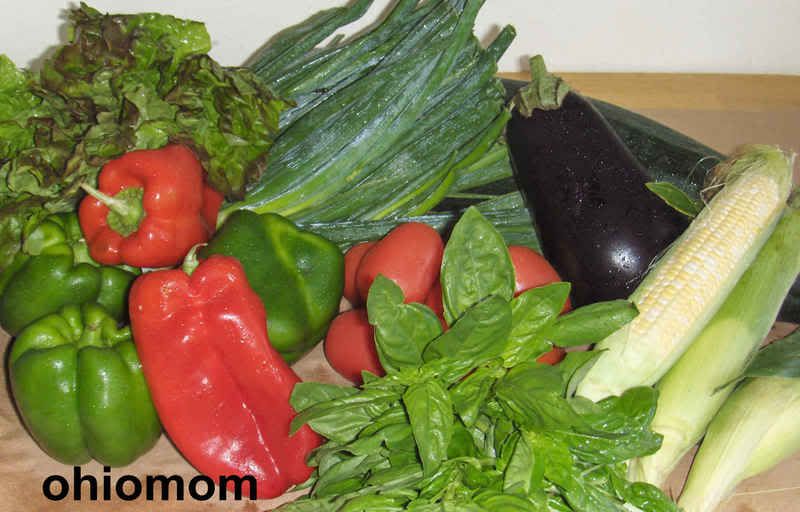 Okay, I have decided that I absolutely must learn how to can foods or buy a deep freezer. My freezer is stuffed with the summer's harvest, and I haven't even put up any peaches and apples. Wonder if I can talk the girl child (daughter) into giving up some freezer space ?
I have put up 10# of green beans, 6# of grated zucchini (breads and fritters), several dozen ears of corn (blanched and cut off the cob) onions, green and red peppers, tomatoes (not nearly enough) and a gallon of blueberries. I have also dried and jarred basil, dill, parsley, rosemary, thyme and have a live rosemary and thyme plant in the kitchen window (these are the two that the cats have not gotten yet). Would someone please tell them the herbs are for my cooking and not for their snacks !
I did get one piece of good news today. One of the local farmers told me they have put up two greenhouses and they already have tomato plants started so, although they won't be in the field, I will be able to purchase local tomatoes this winter.
I will continue my mission to buy local through the winter, with Ohio raised meats/poultry, eggs, milk, cheese and more. Also, check your local grocery stores for the
OHIO PROUD logo
. The family-owned grocer I shop at,
Zagara's Marketplace
, carries a wide variety of local produce and products. It hasn't been as hard as I thought it would be, just takes a small amount of time to find local farmers/producers in your area.
NOTE: It is estimated that NE Ohioans spend $7 billion dollars on food, with less than 1% coming from local farms and producers. Localizing just 10% of our food dollars will generate $70 million for our local economy and communities. To learn more, click here
Cuyahoga Valley Countryside Conservancy.