Nothing is more memorable than a smell. Smells detonate softly in our memory like poignant land mines hidden under the weedy mass of years. Hit a tripwire of smell and memories explode all at once. ~ Diane Ackerman
Ever notice how some of our earliest memories of our Mamas center around food? A certain smell or taste will take me back to helping Mama in the kitchen, or sometimes just watching her cook and bake. This morning I went over to visit my eldest daughter's blog,
A Perennial Garden Lover
, to find that she had recreated a happy childhood memory. That of me frying squash for her and her baby brother when they were just wee ones. They would snatch the squash right off the plate despite my warning of burnt little fingers. When we talked on the phone this morning, I told her the recipe came from my own Mama, who would cut the squash in strips like french fries. So in memory of my Mama, I recreated her dish today. Here is to three generations of cooks in the kitchen.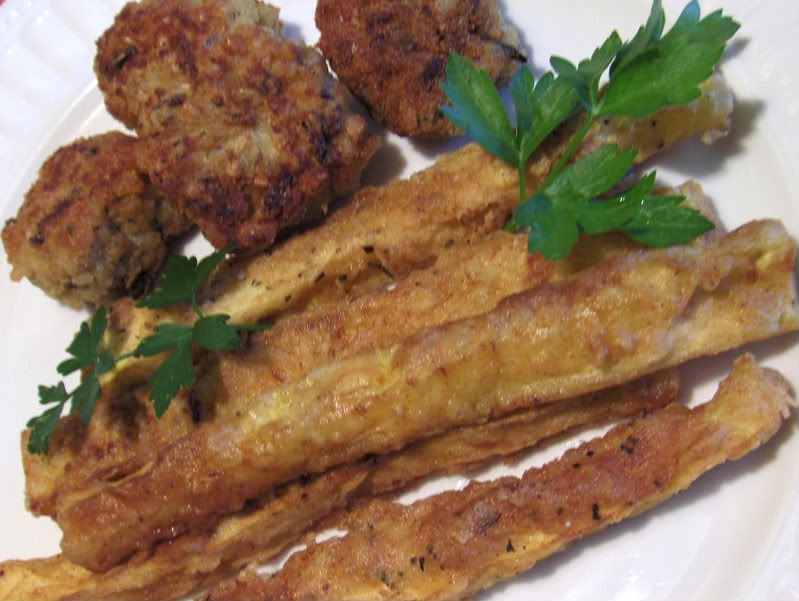 Fried Yellow Squash
Slice squash diagonally or lengthwise into strips, dip in a mixture of milk and egg and seasoned flour. I combined 2 parts all-purpose flour, 1 part whole wheat flour, Old Bay Seasoning (to taste), freshly ground pepper and 1 Tbsp. dried parsley. Dip the squash in milk and egg mixture, dredge in flour mixture and fry in a little hot oil just till nicely browned. Drain on paper towels.
In case you are wondering what those little balls are, take some time and visit Lucy over at
Sweets, Savories, Etc
. to enjoy a very tasty treat.