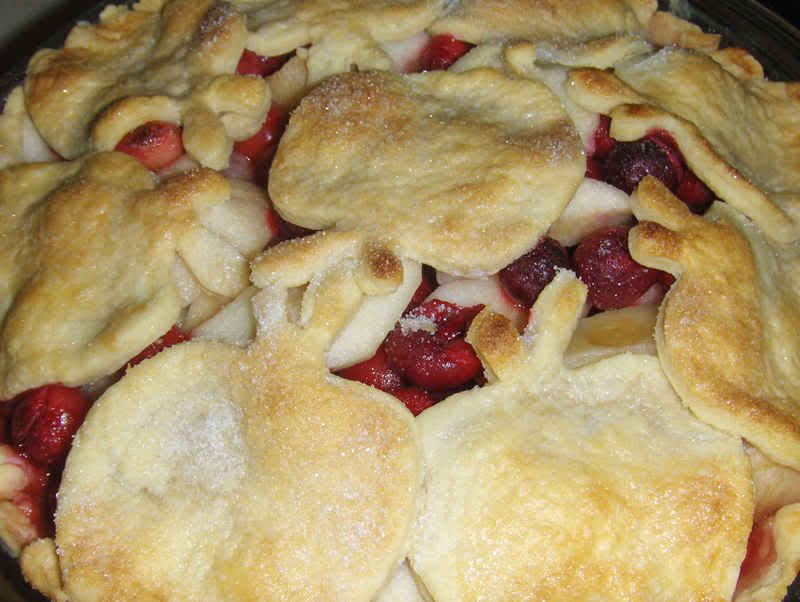 As most of you know by now I am "crust-challenged, but I have found a solution to my dilemma. Cookie Cutters ! Cranberries are in season, now is the time to buy for "now and later". I have a few bags tucked into the freezer, who says we can't eat cranberries year round ? Since I already had sliced apples in the freezer, this was a quick dessert.
Preheat oven to 375 degrees.
Cran-Apple Pie Recipe
4 cups fresh apples
2 cups fresh cranberries
3/4 cups sugar
1 Tbsp. flour
Combine apples and cranberries in a large bowl, toss with sugar and flour and set aside.
Pie Crust Recipe
2 cups all-purpose flour
1/2 tsp. salt
2/3 cup shortening
6 Tbsp. cold water
Combine flour and salt, cut in shortening until mixture is crumbly. Add water and mix well. Divide dough in half. On a lightly floured board roll out dough about 12 inches round. Roll up pastry on rolling pin and roll out into pie plate. Roll out second piece of dough and cut out shapes.
Pour fruit into pie shell and place cut-outs on top, sealing at edges. Brush with milk, sprinkle with sugar. Bake about 45-50 minutes, or until crust is lightly browned and fruit is tender.