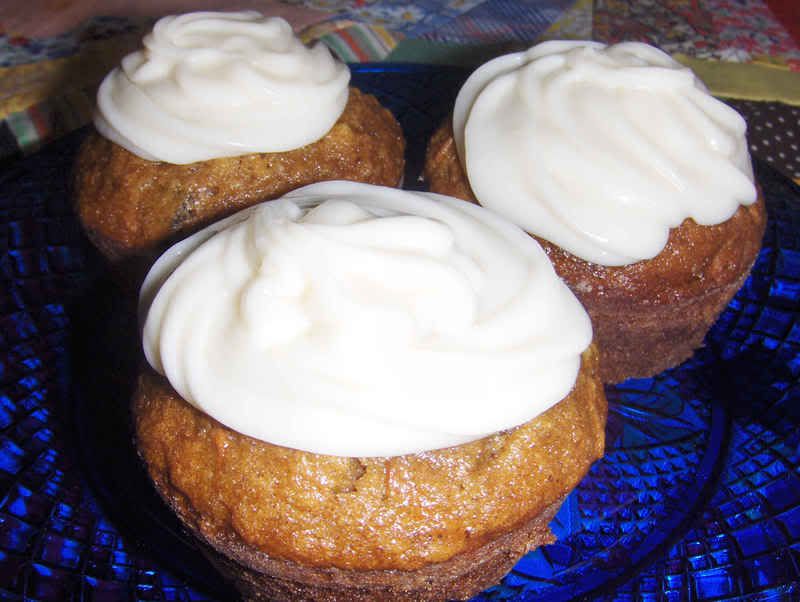 Pineapple-Carrot Muffins Recipe
1 1/2 cups all-purpose flour
1 cup whole wheat flour
2 tsp. baking soda
1 tsp. salt
1 tsp. cinnamon
1 cup brown sugar
2/3 cup oil
1 8 oz. can crushed pineapple, undrained
2 eggs, beaten
2 tsp. vanilla
2 cups shredded carrots
1 cup raisins
1 cup chopped nuts
Heat oven to 350 degrees. Grease and flour muffin tin.
Blend sugar, oil, pineapple, eggs and vanilla, mix well. Combine dry ingredients. Add to egg mixture and stir. Add raisins, carrots and nuts and blend well. Fill muffin tins 2/3 full and bake for 20-25 minutes or until toothpick inserted in center comes out clean.
Cool on wire rack
Cream Cheese Frosting Recipe
4 oz. cream cheese, softened
2 Tbsp. melted butter
1 cup powdered sugar
1 tsp. vanilla
Combine cream cheese and butter, beat well. Add sugar and vanilla and beat until smooth. Frost cooked muffins.
Options: Yes, I know what you are thinking, "fat and calories", but you can make these muffins guilt-free by substituting egg beaters or egg whites for the whole eggs, leaving out the nuts and skipping the frosting. Or you can "eat just one" !