My entry for
BreadbakingDay #9
, hosted by Paulchen's Food Blog. I cranked up the way back machine and baked this no knead, Oatmeal Molasses Bread from Betty Crocker's Cookbook (1956). I am posting the recipe exactly as it appears in the book.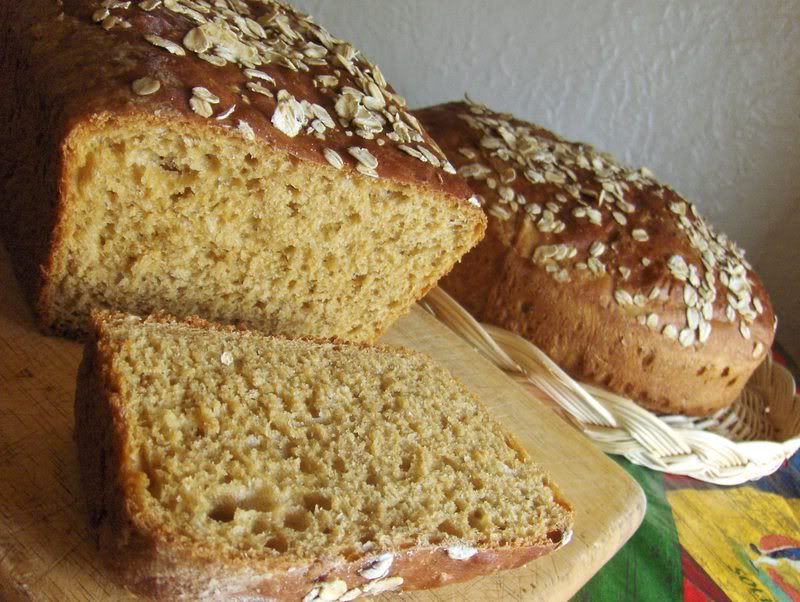 Oatmeal Molasses Bread Recipe
Moist, delicious, and crusty! Made without kneading.
Stir together in bowl...
1 1/2 cups boiling water
1 cup rolled oats
1/3 cup shortening
1/2 cup light molasses
1 Tbsp. salt
Cool to lukewarm
Combine, stirring to dissolve...
2 pkgs. active dry yeast
1/2 cup warm water (not hot-110 to 115 degrees)
Stir into lukewarm oatmeal mixture. Mix well.
Add ...
2 eggs
5 1/2 cups Gold Medal flour
Mix thoroughly. Cover; let stand 15 min. Place dough in 2 greased 9X5X3" loaf pans and pat into a loaf shape. Let rise in warm place (85 degrees) until double. (1 1/2 hours). Bake until brown.
Temperature: 350 degree (mod. oven)
Time: Bake 1 hr.
Amount: 2 loaves
Source: Betty Crocker's Picture Cookbook (1956)
Note: I used dark molasses, and I have also used honey when baking this bread
Any all-purpose flour may be used, or bread flour if you prefer
I brushed the tops of the loaves with egg white and sprinkled with whole oats