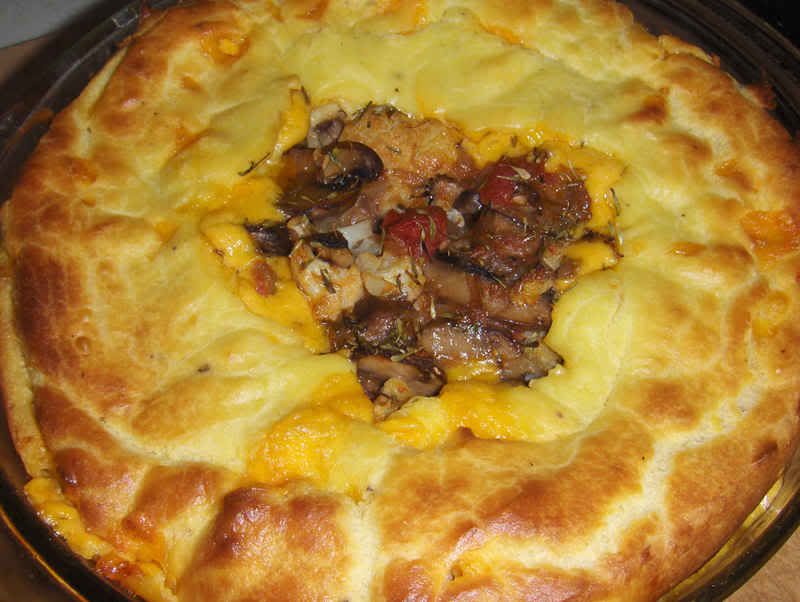 Since I had a half head of cauliflower and mushrooms left over from the Winter Pie, I used them as the filling for this Gougere. The tomatoes are from my freezer stock, thawed and crushed.
Cauliflower and Mushroom Gougere Recipe
1/2 cup butter
1 1/4 cups all-purpose flour
4 eggs, beaten
4 ounces cheddar cheese, diced
Salt & Pepper, to taste
Filling:
1/2 head cauliflower
4 whole tomatoes, crushed
1 Tbsp. olive oil
1 Tbsp. butter
1 onion, chopped
2 cups mushrooms, sliced
Thyme
Preheat oven to 400 degrees. Butter a large oven proof baking dish.
Heat 1 1/4 cups of water and butter in large pot until butter melts. Remove from heat and add all the flour. Beat well until smooth. Set aside to cool.
Add eggs one at a time, beat until mixture is smooth and glossy. Stir in the diced cheddar and season with salt and pepper, to taste. Spread the mixture around the sides of baking dish, leave a hollow in the center for filling.
Cut cauliflower into florets. Crush tomatoes, reserving the liquid. Heat oil and butter in skillet, add onion and sautee for 4 minutes. Add mushrooms and cook an additional 3 minutes. Add the cauliflower and stir-fry for about a minute. Add the tomatoes and liquid and thyme to taste. Cook over a low heat for 5 minutes.
Spoon mixture into the hollow in the baking dish.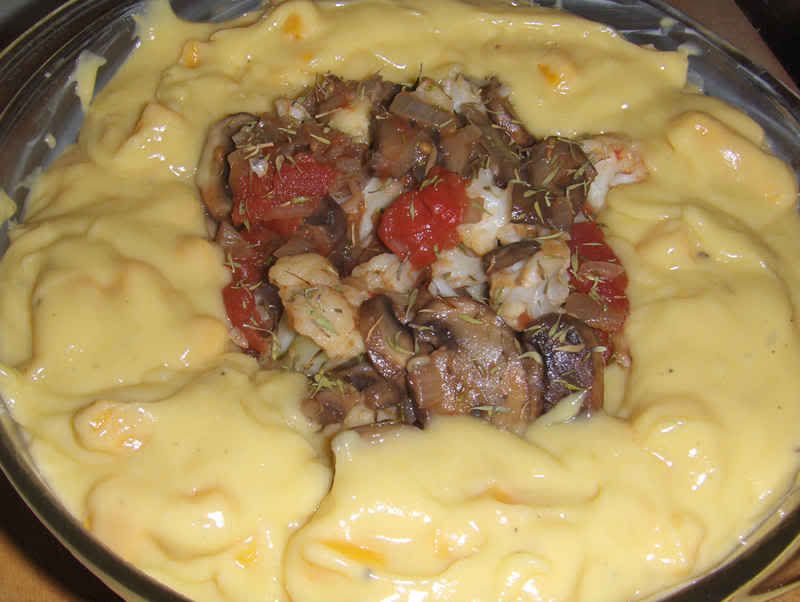 Bake for 40 minutes or until the pastry has risen and is golden brown.