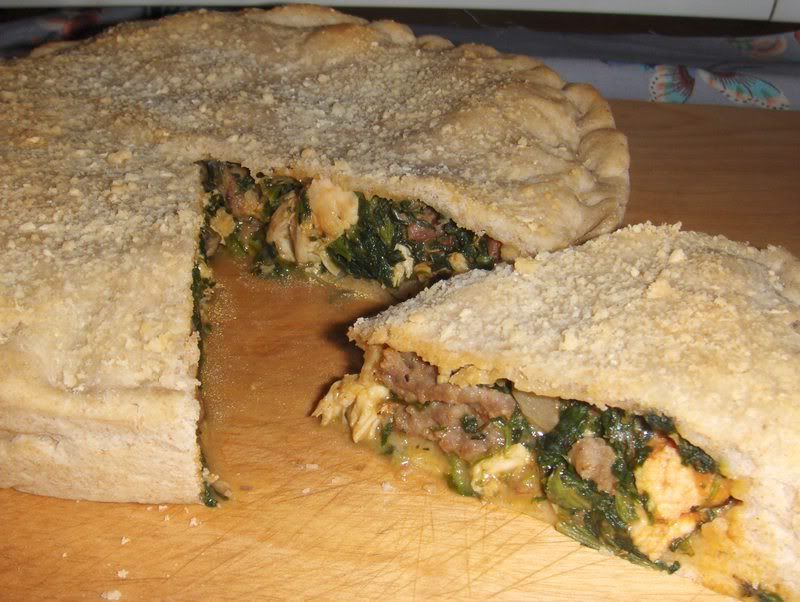 We had a virtual pizza party at the
Cooking Forum
, my contribution was a double-crust filled pizza. Perfect meal for Superbowl Sunday !
Double-Crust Pizza Recipe
Lou's Pizza Crust
3 cups all-purpose flour
1 cup whole wheat flour
1 tsp. salt
1 pkg. yeast
1/2 cup warm water
1 Tbsp. sugar
1/4 cup oil
1 cup warm water
Mix yeast with 1/2 cup warm water and sugar, let proof. Add oil and 1 cup of water to yeast mixture, stir. Combine flours and salt, add to yeast mixture. Knead on dough hook for 5 minutes, or by hand for 10. Cover and set in warm place till dough doubles in bulk. Punch down, divide into fours for cake pans, or in half for 14-inch deep dish pizza pan.
Filling:
2 10 oz. pkgs. frozen chopped spinach, thaw and drain
2 cups mozzarella shredded cheese
1 egg, beaten
2 tsp. dried oregano
1 cup chopped onion
1/2 pound ground Italian sausage
1 large skinless chicken breast
1 cup marinara sauce
In large bowl combine spinach, mozzarella, egg and oregano, set aside. Heat a small skillet over medium heat, add sausage and onion and cook till browned. Grill skinless chicken breast on stove top. Cut chicken into cubes. Add chicken, marinara sauce and sausage mixture to spinach, stir well.
Heat oven to 400 degrees. Lightly oil two 9-inch cake pans, or one 14-inch deep dish pizza pan
Spread 1/4 or 1/2 pizza dough in bottom of pans/pan. Spread filling over dough. Take remainder of dough and roll out in large circle, arrange on top and pinch edges to seal. Brush top of crust with butter and sprinkle with Parmesan cheese.
Bake for about 30 minutes or until golden brown.