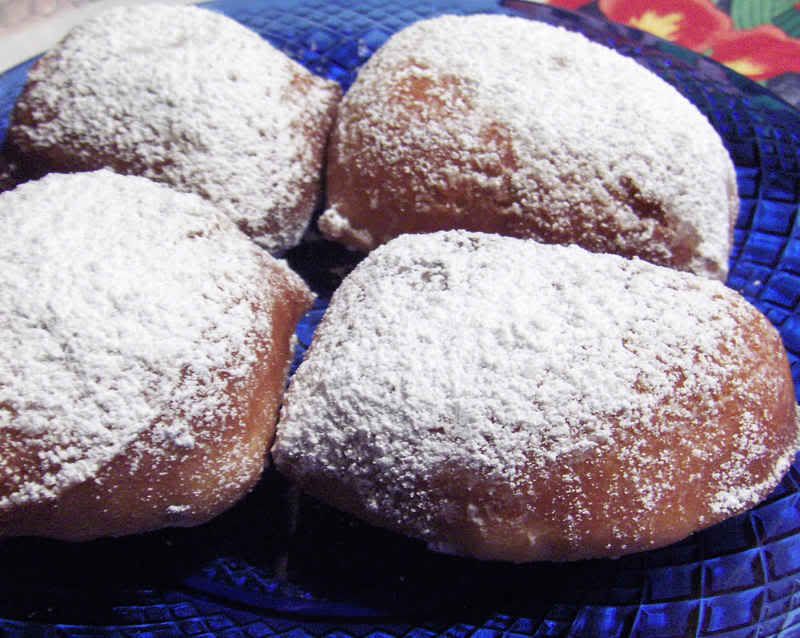 Mandazi is a spicy, fried Doughnut from East Africa. The following recipe is adapted from "A Taste of Africa" by Tebereh Inquai.
Mandazi Recipe
3/4 cups warm water
1/2 tsp. yeast
2 1/4 cups all-purpose flour
1/2 tsp. salt
1/2 cup sugar
2 tsp. vegetable oil
1/2 tsp. crushed cardamom seeds
Oil
Proof yeast in warm water for about 5 minutes. Combine dry ingredients. Add oil to yeast mixture, stir well. Add dry ingredients one cup at a time. Knead for 5 minutes, using a dough hook or by hand.
Divide the dough into four balls. On a lightly floured board, take each ball of dough and press out a circle about 6 inches round, cut into quarters. Place on a lightly floured cookie sheet, cover and let rise about 1 1/2 hours.
Heat about 2 cups of oil in heavy skillet, fry on both sides till golden brown.
Dust with confectioners sugar while still warm.