My friend, Lucy, of
Sweets, Savories, etc
recently posted her homemade meat sauce on her blog, and I have had a craving ever since. Well today I satisfied that craving, let me tell you her sauce is excellente! I used ground Italian sausage instead of beef. And what is pasta without bread to sop up all that good sauce? This Herb Focaccia bread made a perfect partner for this pasta dish.
This dish is my entry to the foodie event being hosted by Helen of
Tartelette
"DMBLGIT" for June 08'.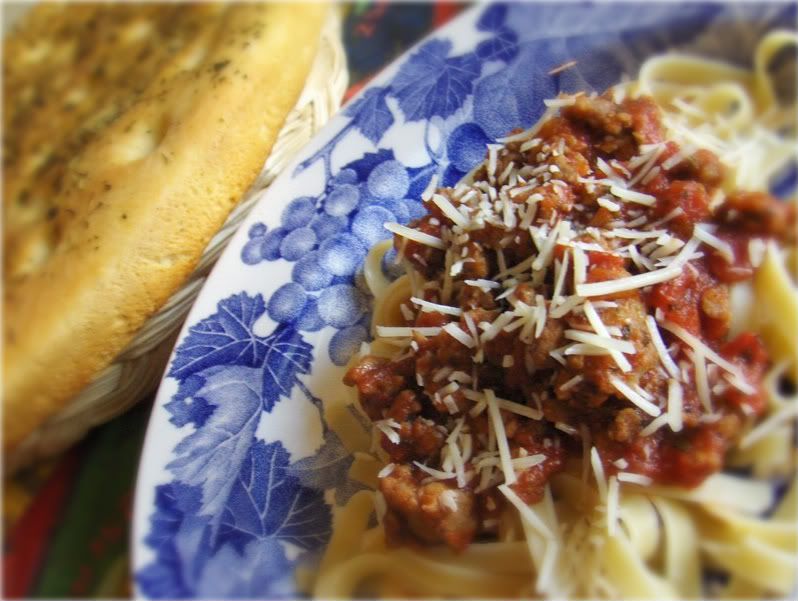 Herb Focaccia Bread Recipe
A large, flat Italian bread that is topped with olive oil, thyme, rosemary and basil.
3 1/2 cups bread flour
1 tsp. sugar
1 tsp. salt
1 pkg. yeast
1 cup warm water
2 Tbsp. oil
1 egg, slightly beaten
3 to 4 Tbsp. olive oil
Dried Herbs
Grease a deep dish pizza pan. Preheat oven to 400 degrees.
Combine 1 cup flour, sugar, salt and yeast. Add warm liquid and egg to flour mixture until moistened. Beat at medium speed for 2 minutes. Stir in remaining flour, and stir till dough pulls away from sides of bowl. Using dough hook, knead for 5 minutes. Cover bowl with towel and let rest for 10 minutes.
Place dough in greased pan, press into a circle. Cover loosely and let rise in warm place until double in bulk, about 30 minutes.
With fingers, poke holes in dough. Drizzle with olive oil. Sprinkle herbs over top.
Bake for 20 to 30 minutes or until golden brown. Cool on wire rack.