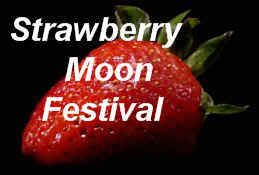 Strawberries are the first fruit of Spring, harvested each year during the month of June. The Full Moon of June was given the name Strawberry Moon by Native Americans. My first food blogging event is a celebration of our "first fruit", so let your creative juices flow !
All entries must be submitted by June 18th, which will coincide with the Full Strawberry Moon. Be sure to put
Strawberry Moon Festival
in the subject line of your email. Also your post should include a link to this event. Entries will be posted as they are submitted.
Your Name
Your Location
Name of Creation
Name of Blog
URL for blog
URL for Post
Photo of your entry
Email this info to me: ohiomom (AT) ameritech (DOT) net
Did you know ?
The Native Americans of Northeast America gave names to all the Full Moons. They kept track of the seasons by giving distinctive names to each recurring Full Moon. They were eating strawberries when the first European arrived in America. They crushed the berries and mixed them with cornmeal and baked them. This is the earliest version of Strawberry Shortcake ! (sources: Farmer's Almanac, University of Illinois)