The Equal Opportunity Kitchen is hosting the
Tried, Tested and True...Take Two
foodie event. This is an event with a cause, organ donation awareness. The dish has to be healthy and low calorie, this flavorful summer salad is my entry.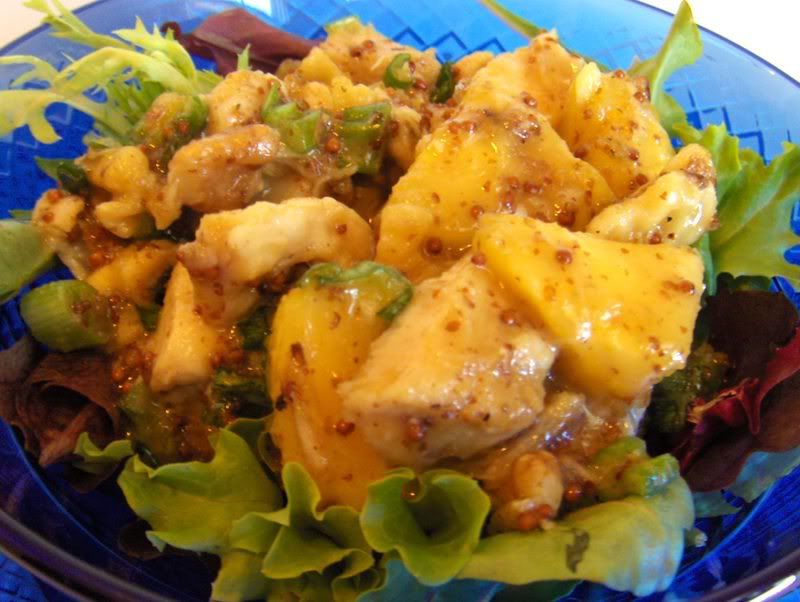 Pineapple Chicken Salad Recipe
2 pounds grilled, skinless chicken breasts, cut into small chunks
1/2 cup toasted walnuts, chopped
2 cups diced fresh pineapple
1/2 cup thinly sliced spring onion tops
1 cup Honey-Lime Dressing
In a large bowl, combine chicken, walnuts, pineapple and onion tops. Set aside.
Honey-Lime Dressing
1/2 cup Brew Master's mustard
1/2 cup Tonn's Wildflower Honey
3 Tbsp. sugar
2 Tbsp. extra virgin olive oil
3 Tbsp. cider vinegar
1 Tbsp. lime juice
Combine all ingredients, whisk until smooth.
Pour about 1 cup of dressing over chicken mixture, mixing to coat evenly. Cover and refrigerate.
Served over spring mix lettuce.
The Honey Lime dressing is adapted from
CD's Kitchen
.