Zucchini was available at the
Coit Road Farmers Market
yesterday and, of course, I bought several. After a long winter, it is wonderful to see vegetables and fruits coming into season here in NE Ohio. So what did I do with my bounty ? Well, Lucy of
Sweets, Savories, Etc.
blogged about her
Cheesy Zucchini Squares
yesterday and let me tell you this is a must try recipe. Grazie Lucy!
I also bought some fresh, spinach fettuccine from my local family-owned grocer and sauteed some veggies to toss with it. Yummy!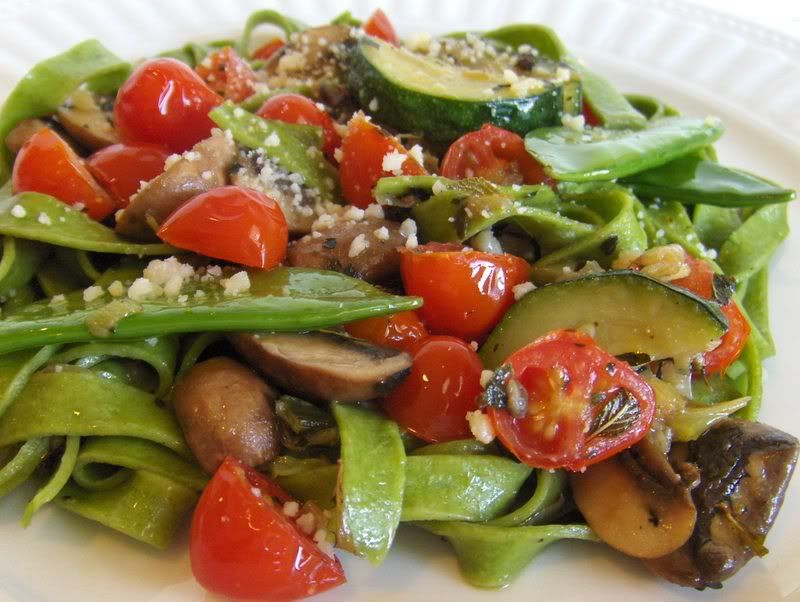 Spinach Fettuccine with Veggies
Recipe:
1 pound fresh spinach fettuccine
1 candy onion with leaves, chopped
4 garlic cloves, minced
1/2 cup extra virgin olive oil
3 Tbsp. butter
2 zucchini, sliced
1 pint grape tomatoes, cut in half
8 oz. baby portabella mushrooms, sliced
8 oz. snowpeas
Basil
Oregano
Salt & Pepper, to taste
Freshly-grated Parmesan cheese
Bring pot of salted water to boil. Over medium heat in a large deep skillet, heat olive oil and butter. Add onions and garlic and cook for about 3 to 4 minutes. Add remainder of vegetables and cook just till tender. Add basil, oregano, salt and freshly ground pepper.
Cook fresh fettuccine about 3 minutes, drain and toss with veggies, grate Parmesan cheese on top.
Archana of Archana's Kitchen is hosting a
One Dish Meal Event
, this easy to make meal is my entry. Thank you for your warm invitation Archana.