Locally grown vegetables are plentiful now and pairing them with pasta makes for a light and flavorful summertime meal. This dish got an extra shot of flavor with an Annatto-infused olive oil, find out how to create this oil by visiting the
Spicehound Cooks (and Brews)
.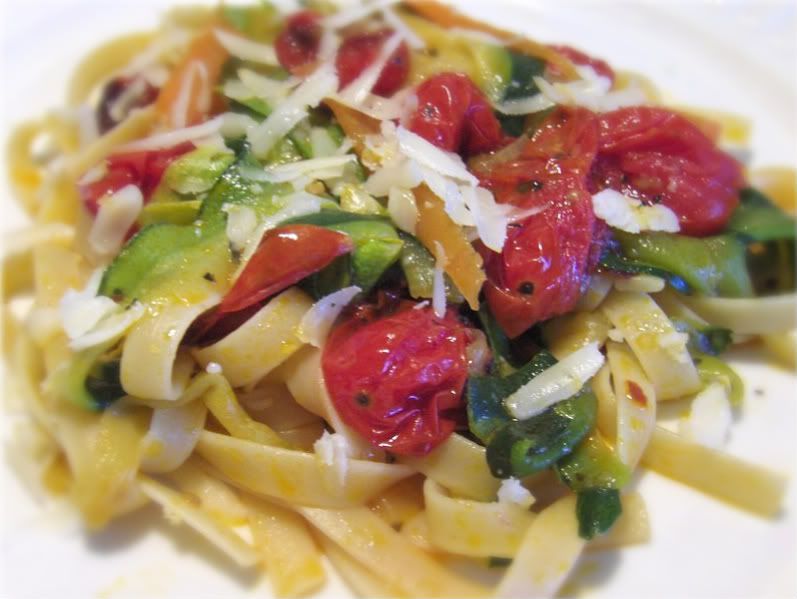 Pasta Primavera
1 pint grape tomatoes
1 small unpeeled garlic bulb
Toss with a little olive oil and salt. Roast in a 400 degree oven for 45 minutes. Set aside.

Bring a large pot of salted (or not) water to a boil. Cook 1/2 pound of pasta according to package directions. Heat 1/4 cup Annatto-infused olive oil over medium heat in a large, deep skillet. Add one chopped candy onion, let cook just till tender. Add some dried basil and a pinch of dried crushed red pepper and cook for 1 minute to allow the release of fragrance. Add 2 carrots, peeled and sliced julienne-style and cook for another 2 minutes. Add one unpeeled zucchini, either sliced or peeled in thin strips. Cook for just one minute more, no one likes mushy veggies. Turn off heat and add roasted tomatoes and garlic. Just squeeze the garlic bulb and the garlic will pop right out. Drain pasta, saving some of the pasta water. Add 1/2 to 1 cup of pasta water to veggie mixture. Add pasta and toss gently. Top with freshly grated parmesan cheese.

I have been awarded a Brilliant Blog Award by Racquel the
Perennial Garden Lover
. For those of you who do not know, Racquel is my daughter, she has a green thumb and a gorgeous garden to prove it.
So here's what else I'm suppose to do.
1. Put the logo on my blog.
2. Add a link to the person who awarded it to me.
3. Nominate other blogs.
4. Add links to those blogs.
5. Leave a message on your nominees' blogs.
I am passing on this award to ...
Lucy of
Sweets, Savories, Etc.
Janie of
An Obsessive/Compulsive Plant Collector
Giz and family of
Equal Opportunity Kitchen
Grace of
A Southern Grace
Sue of
Please, Don't Pass The Salt
Theresa of
Baking and Beyond
Paula of
It's All Gouda