"If we do not permit the earth to produce beauty and joy, it will in the end not produce food either" ~ Joseph Wood Krutch
Crust:
1/2 cup cold butter, cut up in pieces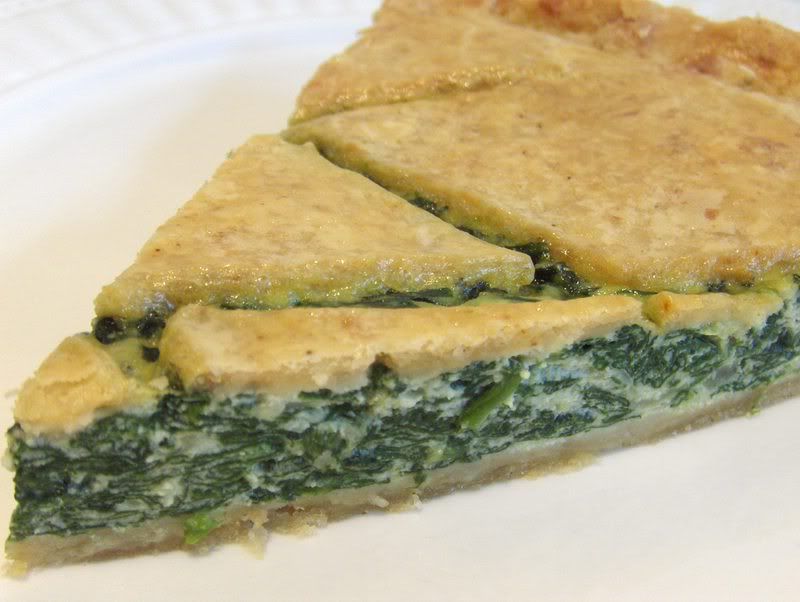 2 cups all-purpose flour
1/2 tsp. dry mustard
1/2 tsp. paprika
Salt, to taste
1/2 cup finely grated Cheddar cheese
4 t0 6 Tbsp. cold water
Combine dry ingredients. Add cold butter, cut in until the mixture is crumbly. Add cheese and cold water and blend till dough comes together into a ball. Flatten into a disc, wrap in plastic and refrigerate at least 30 minutes.
Filling:
1 pound fresh spinach, chopped up
1 onion, chopped
1 cup Ricotta cheese
1/2 cup freshly grated Parmesan cheese
2/3 cup half-n-half
2 eggs, beaten
Salt & Pepper, to taste
Heat 1 Tbsp. olive oil over medium heat in large deep skillet. Add onion and sautee until onion carmelizes. Add spinach and 2 Tbsp. water. Cover and let cook till spinach wilts, just a couple of minutes. Drain well and cool. Once cool add the rest of the ingredients and mix well.
Roll out 2/3 of the dough and press into tart pan. Spoon filling into shell. Roll out remaining dough, lay over tart and cut slits in top. Brush egg over pastry. (Beat one egg with 1 Tbsp. water)
Bake in a 400 degree oven for 35-45 minutes, or until nicely browned.
This tart can be eaten warm or cold, it can also be frozen and reheated.