"Make food simple and let things taste of what they are" ~ Maurice Edmond Sailland

The
Equal Opportunity Kitchen
is hosting this month's
Presto Pasta Nights
. Thanks go to my friend Lucy over at
Sweets, Savories, Etc
. for the inspiration in the creation of this Tomato-Anchovy Sauce. When I was at the Coit Road Farmers Market this past Saturday Lynette gave me a large bag of assorted tomatoes, roma, yellow grape, yellow plum and others. I roasted them with the idea of making this sauce. The food critic loved it!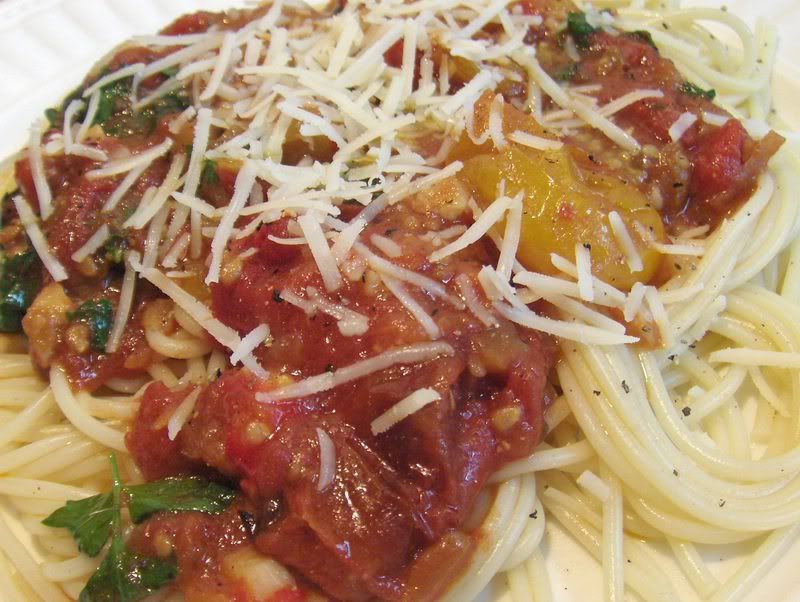 Tomato-Anchovy Pasta
1/4 cup olive oil
1 onion, chopped
4 cloves garlic, minced
1-2 oz. tin anchovy fillets, drained and chopped
Roasted tomatoes
1/2 cup fresh parsley, chopped
Freshly ground black pepper
Grated Asiago cheese
Sautee onion in a deep skillet over medium heat until carmelized. Add garlic and cook for about 2 minutes. Add the anchovies and roasted tomatoes. Cover and simmer about 20 minutes. Stir in parsley and serve over cooked pasta. Season with freshly ground black pepper and cheese to taste.