As you may recall, I posted on my blog about my
Urban Rooftop Vegetable Garden
. Well I am here to brag. Will you look at the size of this tomato? Just to give you an idea of the size, that baby is sitting on a dinner plate! The garden was a huge success, I will definitely be doing this again next year with the addition of more veggies. I made a simple salad with the mater as the star of the show. The taste of these homegrown maters is outstanding!
1 1/2 to 2 pound mortgage lifter tomato, cut in pieces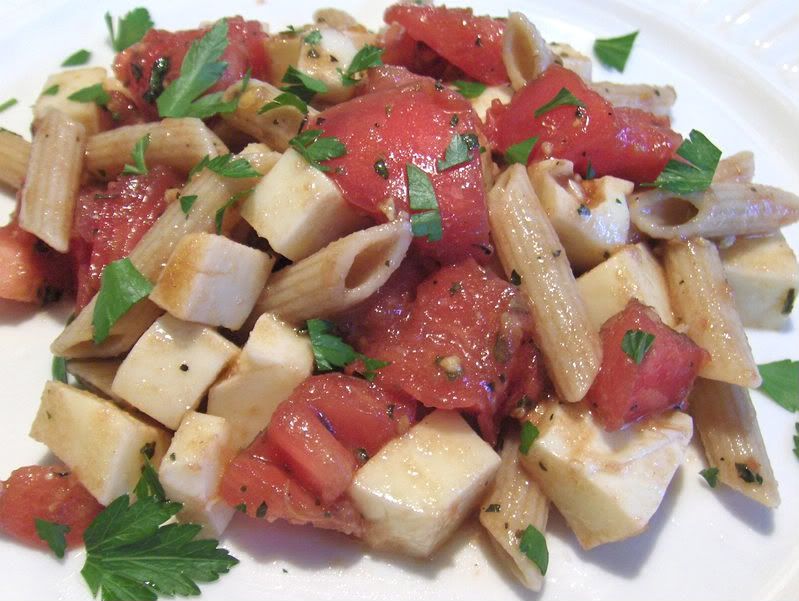 (I don't own a scale, so this is a guesstimate:)
1/2 pound cooked whole wheat penne pasta
8 oz. Mozarella cheese, cut in pieces
1/4 cup olive oil
1 Tbsp. balsamic vinegar
1 Tbsp. lemon juice + grated zest of lemon
Salt & Freshly ground black pepper, to taste
Fresh Parsley (also from my garden)
Blend olive oil, balsamic vinegar, lemon juice and zest. Season with salt and pepper. Add to a bowl with tomatoes and cheese, set aside. Cook pasta, drain and toss with tomato mixture. Garnish with parsley.
Mortgage Lifter Tomato

The legend of this tomato is that it was developed by M. C. Byles of Logan, West Virginia. For six years he crossed German Johnson, Beefsteak, English and Italian varieties, selecting the largest specimens. It is said that he then sold plants for $1.00 each and paid off his mortgage in six years.