We love the addition of fruits to our salads and since pears are available now I wanted to use them in a salad. The food critic really liked this salad dressing, I stored it in a glass jar to use for the rest of this week.
Holler of Tinned Tomatoes is hosting
No Croutons Required - The Fruit Edition
this month. This is my entry.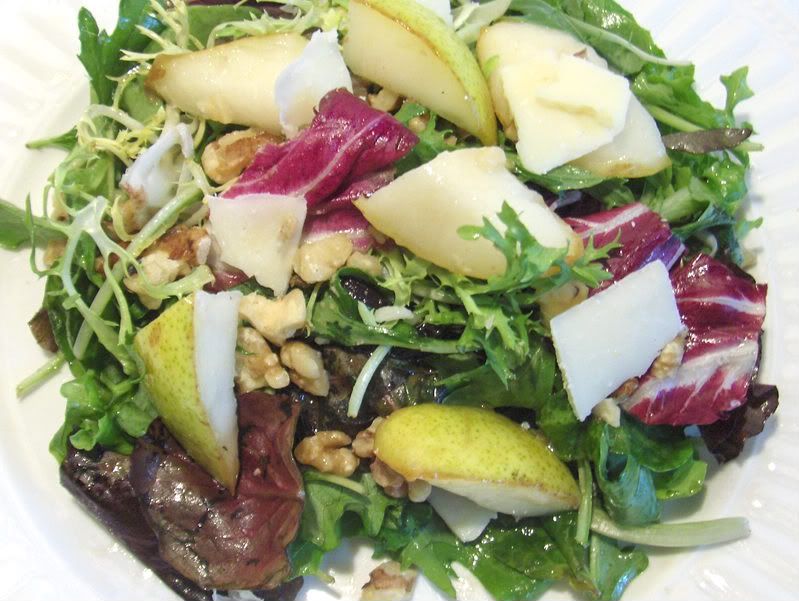 Pear Salad
Fresh baby salad greens
Pears, cored and sliced (skin on)
Parmesan cheese, shaved
Chopped Walnuts
Lemon juice
Sprinkle pears with a small amount of lemon juice and set aside. Arrange salad greens on plate/bowl. Arrange pears over top. Sprinkle with some chopped walnuts and shaved Parmesan cheese. Drizzle salad dressing over top.
Maple Salad Dressing
1/4 cup Ohio Pure Maple Syrup, warmed
1 1/2 Tbsp. cider vinegar
1/4 cup olive oil
Salt & Pepper, to taste
Whisk maple syrup, cider vinegar, olive oil and salt together and drizzle over salad. Season liberally with freshly ground pepper.
Salad dressing courtesy of
Rachel Ray
.