I made up some
marinara sauce
this morning. Looking in the vegetable drawer I discovered some odds and ends vegetables from the market that needed to be used up so I made lasagna rolls for supper, tutorial for rolling can be found
here
.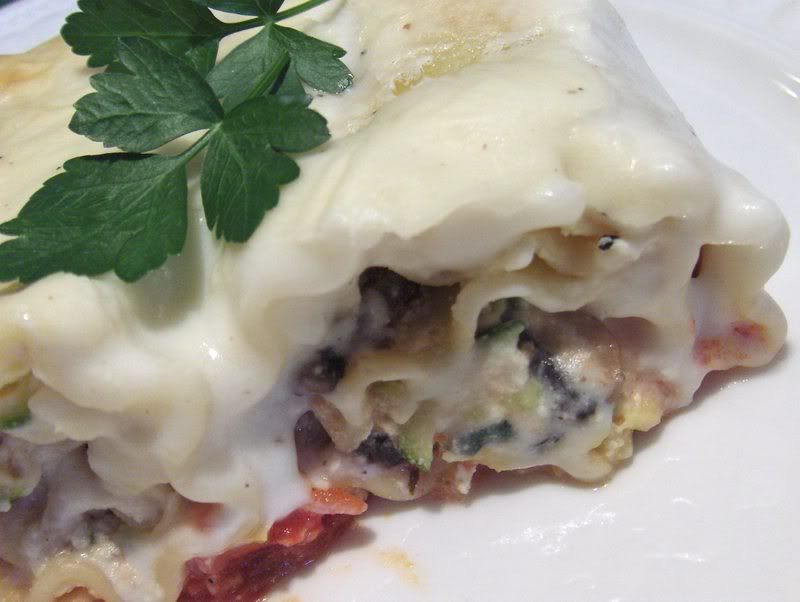 Zucchini Lasagna Rolls
2 medium zucchini, grated (skin on)
1 large carrot, grated
2 young leeks, minced
mushrooms, sliced (about 1 1/2 cups)
1/2 green pepper, diced
A 9x12 baking dish, spread about 1 cup marinara sauce over bottom evenly.
16 Lasagna noodles, cooked according to pkg. directions
Sautee mushrooms just to liquid cooks off, set aside. Combine the zucchini, carrot, leeks and green pepper. Salt and pepper, to taste. Combine 2 cups Ricotta cheese, 1 cup Parmesan cheese and two eggs. Add to veggie mixture and mix well.
Spread veggie-cheese mixture on lasagna noodles, along with mushrooms and roll up. Place in baking dish and top with a Béchamel Sauce, which is a white sauce made with flour, hot milk, butter and Parmesan cheese.
Bake in a 350 degree oven for about 45 minutes, or until lightly browned. Serve with a green salad and crusty bread.
Béchamel Sauce:
3 cups of milk, heated
4 Tbsp. butter
4 Tbsp. all purpose flour
1/2 cup grated parmesan cheese
Salt & Pepper, to taste
Heat milk in saucepan over medium-high heat, add butter. Whisk in flour and stir till sauce thickens. Add cheese and salt and pepper, blend well and remove from stove.