Zucchini is commonly thought of as a vegetable, and in layman's parlance, of course, this is more useful; however by strict definition the zucchini is a fruit, being the swollen ovary of the zucchini flower ~ Wikia
I stopped by the Coit Road Farmers Market yesterday to pick up some produce, and couldn't resist picking up some more zucchini. Here is yet another way to enjoy this summer squash.

1 Tbsp. Olive Oil
2 cups sliced fresh mushrooms
1 cup chopped garlic scapes
6 cups chopped fresh tomatoes
1 cup tomato sauce
6 oz. tomato paste
2 tsp. dried Basil
2 tsp. dried Oregano
Salt & Pepper, to taste
5 large zucchini
2 cups shredded mozzarella cheese
1/2 cup parmesan cheese

Heat olive oil over medium-high heat in heavy duty pot. Add scapes and mushrooms and cook until tender. Add chopped tomatoes, tomato sauce, tomato paste, basil, oregano, salt and pepper. Cook uncovered for 40 minutes, stirring occasionally. Set aside and keep warm.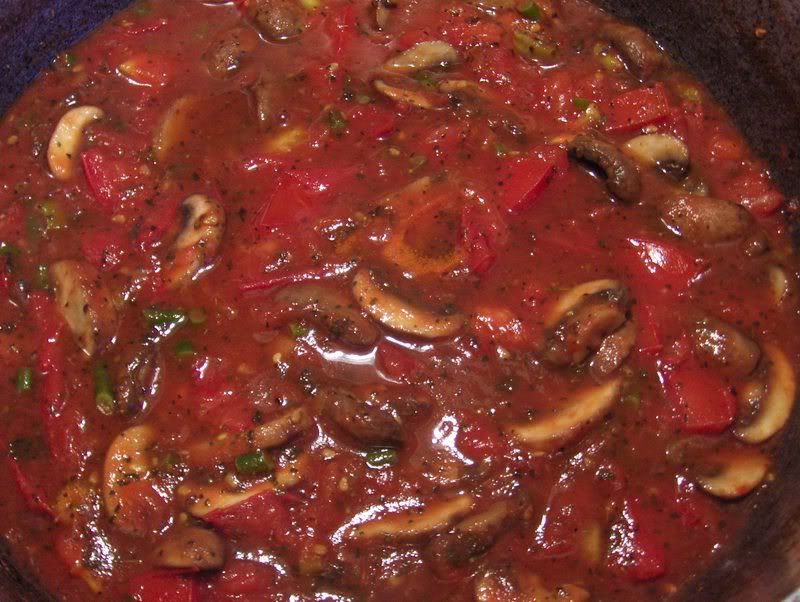 Cut zucchinis lengthwise into 5 slices. Cook in boiling water for 5 minutes. Drain and pat dry with paper towels.
Spread 2 cups tomato mixture in bottom of a 9x12 baking dish. Place half of the zucchini slices over sauce, overlapping slightly. Sprinkle half of mozzarella and parmesan cheese over zucchini. Repeat layers, topping with remaining tomato mixture. Sprinkle top layer lightly with mozzarella and parmesan cheeses.
Bake uncovered in a 350 degree oven 30 to 40 minutes, or until lightly browned.