Ohio-grown sweet corn was at the
Coit Road Farmers Market
this week, and you know I had to grab up some. In fact, just like with all the locally grown summer vegetables, this is one that I put up in the freezer for winter. I usually buy 12 ears at a time and put up 6, so by the time Fall comes around I am able to cook slow food holiday dinners for my family, as well as having some for soups and stews. Also picked up some Ohio-grown cilantro at my local family-owned grocer,
Zagara's Marketplace
, they are great about carrying local produce. I wanted to make a healthy salad. Salads are the perfect summer meal for me, because they mean little or no cooking. The following recipe was adapted from a magazine article I clipped, I put my own twist to it.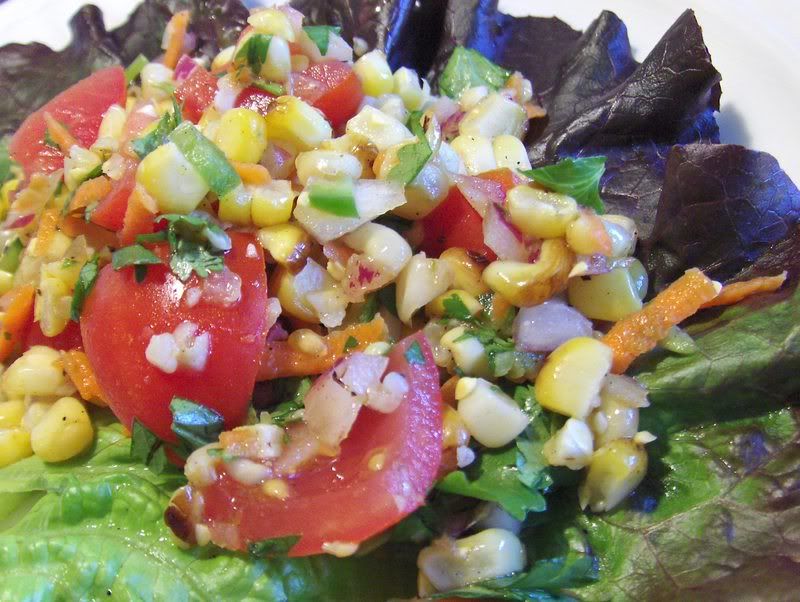 Grilled Corn Salad
Recipe:
6 ears sweet corn
1 bunch of cilantro
1 red onion, chopped fine
1 jalapeno pepper, minced
1 pint cherry tomatoes, quartered
2 carrots, peeled and grated
Garlic powder, to taste
Salt & Pepper, to taste
1/4 cup cider vinegar
2 Tbsp. lime juice
2 Tbsp. olive oil
1 head leaf lettuce
Grill seasoning for corn:
1/2 stick butter
1 Tbsp. lime juice
1/2 tsp. Guajillo Chile powder
Shuck sweet corn. Combine butter, lime juice and Guajillo chile powder. Brush generously on corn, grill until done. (10-15 minutes) Set aside to cool.
Cut the corn off the cob, scraping with blunt side of knife to collect the remaining hominy. Chop cilantro roughly and bruise with the side of knife to realease juices. Add to bowl with corn.
Combine the remaining veggies and add to corn mixture. Season with salt and pepper, to taste.
In a small bowl combine cider vinegar, lime juice, olive oil and garlic powder. Add to corn mixture and toss gently.
Serve with a pile of lettuce leaves to eat wrap-style.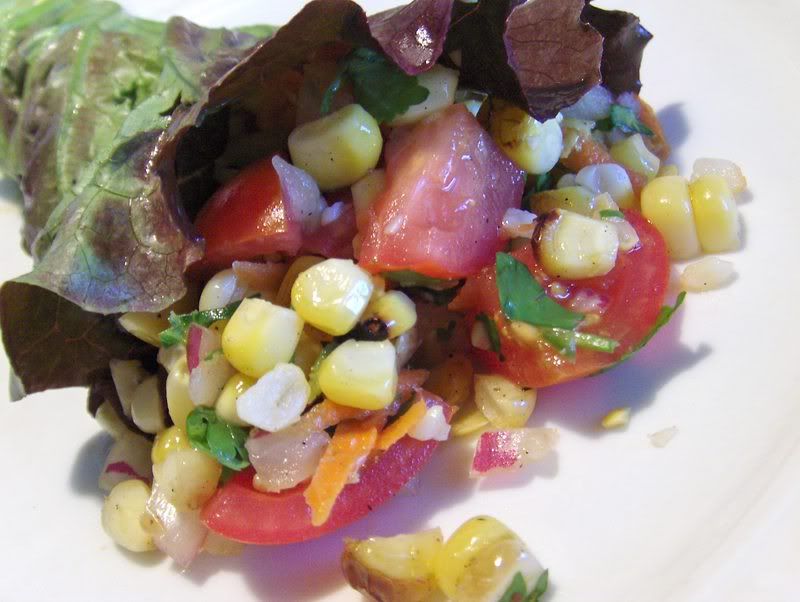 Cilantro, the leaf of the young coriander plant, is an herb in the parsley family similar to anise. Cilantro's taste is a fragrant mix of parsley and citrus.


Holler of
Tinned Tomatoes
is hosting a food event this month,
No Croutons Required
, a soup or salad with your favorite herb. This is my entry for the event.