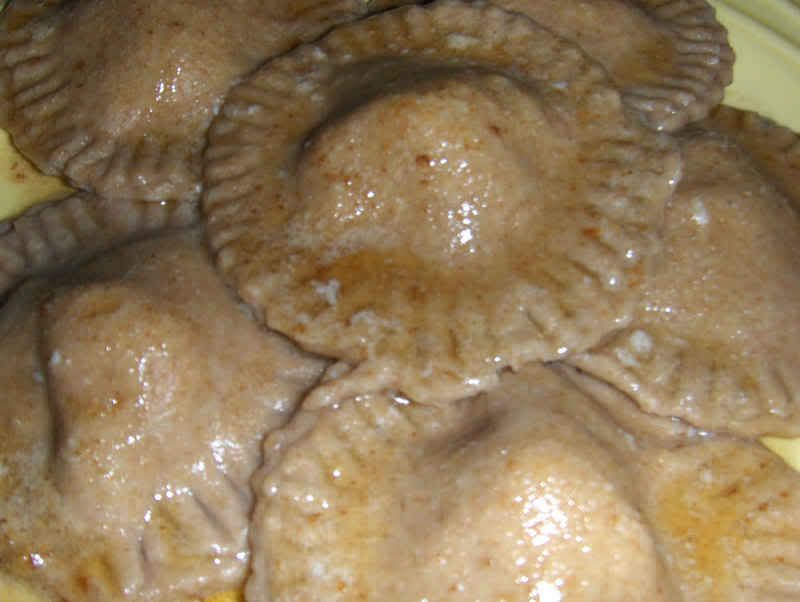 Another way to use Thanksgiving leftovers that doesn't involve turkey which, if like me, you are probably pretty burnt out on. I made a basic pasta dough using whole wheat flour and filled it with sweet potato, cranberry sauce and a bit of goat cheese from the Lake Erie Creamery. After boiling I gently placed them in some browned butter in skillet till just coated. First time making pasta and I have to admit it is better than the processed stuff you buy at the grocer.
Following are the steps taken. Divide dough up and roll out, I used a biscuit cutter because I wanted uniform shapes. Each round received 1 tsp. of mashed sweet potato, 1/2 tsp. cranberry sauce and a smidgen of goat cheese. Lightly brush edges with water and seal with a fork.
Drop in boiling water, they are done when they float to the surface, remove with slotted spoon and transfer to skillet with browned butter.
Pasta Dough Recipe
2 cups whole wheat flour
1/2 tsp. salt
2 eggs, beaten
1/3 cup cold water
1 tsp. olive oil
Combine dry ingredients, make a well in center. Mix eggs, water and oil and add to dry ingredients. Turn out on well floured board and knead for 10 minutes, until dough is smooth and elastic. Divide dough in fourths, roll each fourth into a 12 inch square. Cut as desired.