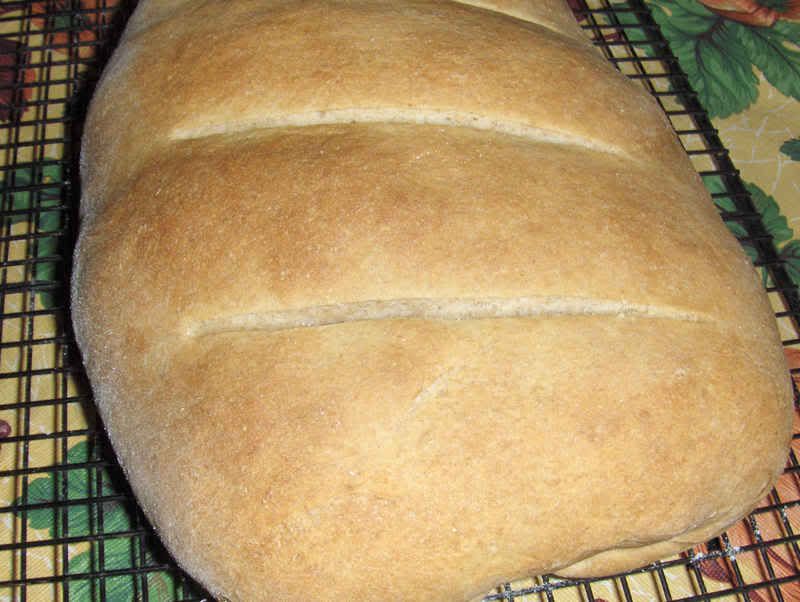 Bread baking 101 continues, my first free form loaf is a success ! This bread is good for sandwiches or as toast.
Ingredients:
1 package yeast
1 1/3 Tbsp. sugar
1/4 cup warm water (110 degrees)
1 cup sour cream, room temperature
1 Tbsp. salt
1/4 tsp. soda
2 cups bread flour
1 cup whole wheat flour
Combine yeast, sugar and water and allow to proof for 5 minutes.
Combine dry ingredients. Add sour cream to the yeast mixture, then add flour one scoop at a time beating well after each addition. Turn out onto a floured board, kneed for about 10 minutes.
Shape the dough into a ball and place in a buttered bowl, turn to coat with butter. Cover with plastic wrap and sit in a warm spot till double in size. About 1 1/2 to 2 hours.
Punch dough down and let rest for a few minutes. Turn out onto a floured board and kneed a minute or two.
Place in a buttered loaf pan, cover with towel and let rise again till double in size.
Bake in a preheated 375 degree oven 30-35 minutes, or until loaf sounds hollow when tapped on top and bottom.
Note: I shaped the dough and placed on a sheet sprinkled with cornmeal. Covered with a towel and let double in size. Before I placed it in the oven I used a sharp knife and made three slashes across the top. Place a hot pan of water on bottom shelf of oven, and spray bread lightly with water before placing in oven.