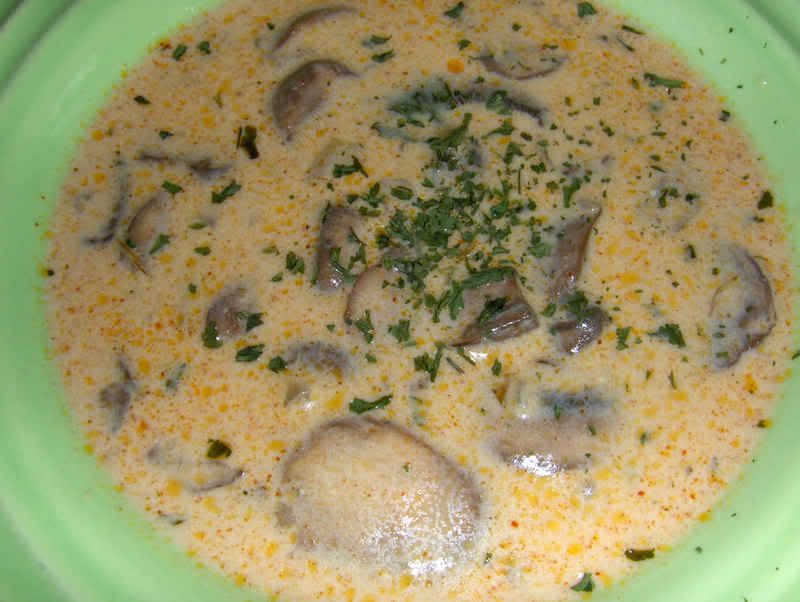 "Good soup is one of the prime ingredients of good living. For soup can do more to lift the spirits and stimulate the appetite than any other one dish."
Louis P. De Gouy, The Soup Book (1949)
If you are a regular visitor to my blog, you know by now that if you are looking for gourmet, you won't find it here, just simple home cooking. Well, throw away the cans ladies and gents, this mushroom soup has short prep time and is ready in 30 minutes. OMG, it is soooooo good !
Mushroom Soup Recipe
4 Tbsp. butter
2 onions, chopped
1 pound fresh mushrooms, sliced
1 Tbsp. paprika
2 cups chicken broth
1 cup half-n-half
3 Tbsp. flour
Salt & Pepper, to taste
1 Tbsp. dried parsley
1 cup sour cream, room temperature
In a soup pot melt butter and sautee onions till translucent, add mushrooms and cook for about 5 minutes. Stir in broth and paprika. Cover and simmer 15 minutes. Whisk flour and milk together and add to pot, simmer covered for an additional 15 minutes.
Stir in salt & pepper and parsley. Remove from heat and stir in sour cream.
Serve immediately with crusty bread.